postcard from leon fulcher
From Australia
G'day everyone! Greetings from Australia where I recently spent a short break in Sydney en route to Perth where a new foster care service Ė Key Assets Western Australia Ė is being established through support from the Ukís largest independent foster care provider Foster Care Associates. Like developments in New Zealand this new Australian foster care agency acknowledges that foster carers have the greatest long-term influence in the lives of children and young people in out-of-home care.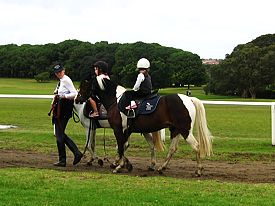 Pony riding in a Sydney park
Moving around the world it is interesting to note how terminology changes, even though the primary tasks of child and youth care remain very similar. While terminology now used in the UK to inform policies and practice refers to looked after children and young people, in Australia the terminology involves children and young people living in out-of-home care. Iíve heard some aspiring young policy makers argue that the term in care should no longer be used since it prompts negative images of large institutions, fears about institutional abuse, and UN rights of the child best served by removing children from care. Maybe itís about misuse of State authority.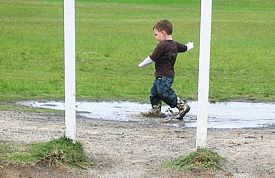 Some kids prefer splashing in mud puddles
It is interesting to note that major reductions in the numbers of Australian children and young people in care over the past decade have been paralleled by a dramatic increase in youth homeless. So a new discourse has emerged to amend service options for many of Australiaís most vulnerable young people. Stories are told of Australian youths once placed in care now being placed in hotel rooms (after all, their problem is homelessness) while trackers hover around them 24-hours a day. So much for relational care! Of course being in care, achieving the status of looked after, or being declared homeless results in the availability of quite radically different services Ė or no services Ė based on an ideology of minimal intervention and policy arguments claiming that doing nothing is better than old-fashioned care. Such options are of course cheaper! You wonder whether policy makers sit back smugly claiming that youths grow out of it. After all they did! But of course many donít grow out of it, and face premature death through alcohol and drug abuse, road traffic accidents or youth violence. And a high proportion graduate into prison. This isnít rocket science. Itís about alternative social and political ideologies dreamt up far away from busy Saturday nights on the streets when youth culture and drink culture get out of control!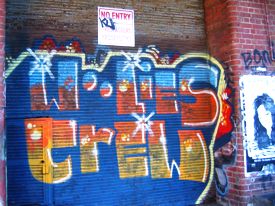 Skateboarding rules, OK!
Iím not advocating that children and young people should be taken into out-of-home care or achieve looked after status without due diligence, careful scrutiny of legal rights and the active participation of family and extended family members in all decision-making. Nor am I suggesting that such decisions are easy. They aren't! But those pushing particular ideologies often ignore parent(s), family members, neighbours living on the same street, and all the potential victims of totally outrageous and obnoxious youth behaviour. But living alone in a hotel room surrounded by 24-hour trackers wonít yield positive outcomes for anybody. I'll never know whether members of the Weelies Crew who left their graffiti on a deserted Freemantle warehouse door were being singled out by the police as I walked by. But all the action came to an abrupt end when the police arrived to talk with youths gathered there with their skateboards doing wheelies and grinding out their sport. Who cares?