postcard from leon fulcher
From from Back Home in New Zealand
It's been a busy month, what with the start of term and the arrival of 270 new 17-18 year-olds at Weir House for the start their first year at Victoria University. Predictable crises of young adult life include leaving home and starting university! This year, the 70th Anniversary of Weir House has already been memorable, with former residents – now Members of Parliament – hosting new residents for dinner at Parliament. Then, Weir House students welcomed a distinguished former resident from thirty years ago "YB Dato" Dr James Masing, Minister of Social Development & Urbanisation from the State of Sarawak, Malaysia "along with his Assistant Minister for Youth, the Hon Joseph Belaun and Assistant Minister for Welfare and Women's Affairs, Hon Datin Sharifah Mordiah, Permanent Secretary Morshidi Ghani and 7 others on a Study Tour of New Zealand.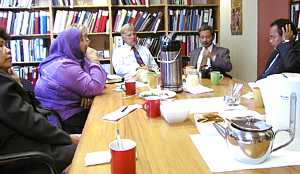 Sarawak Ministers meeting with NZ Commissioner for Children
The Ministerial entourage were welcomed to Wellington and hosted by the Malaysian High Commission. Then they met with representatives of Wellington's oldest NGO attending to the needs of children and young people in the capital city. From 1883, the Boys" & Girls" Institute provided bathing facilities and later swimming lessons, but now therapeutic recreation programmes for young people under contract with health services. New Zealand's Commissioner for Children, Roger McLay hosted Dato" Masing and his colleagues before a meeting with Head Office representatives of the Child, Youth and Family Service and the Ministry of Social Development.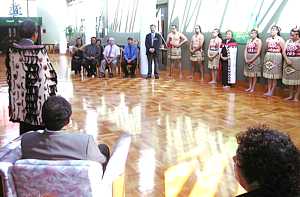 Welcome by Te Arawa and Rotorua District Council
Then it was a bus journey to Auckland, travelling via Rotorua where the Ministerial party was welcomed by the Deputy Mayor and elders of the regions Te Arawa people. After a reception there were presentations on the social development role of local and regional government working in partnership with the local indigenous people. Datin Sharifah Mordiah and the other women were invited back to Rotorua for the 6th United Nations Indigenous Women's Conference in November.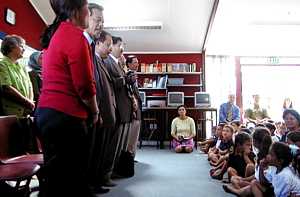 Dato & Datin Masing lead the Sarawak Singing for Children
While in Rotorua, the Ministerial party was also hosted by the teachers and children of Koutu Kura Kaupapa Maori School where children from primary age through secondary school are taught through emersion in the Maori language. It was fun watching the Maori kids exchange Maori words with Sarawak words. There was a big laugh when they learned from YB Joseph, the Minister for Youth, that when he drove into the school grounds, he though he was coming to a tortoise farm because "kura" in his language means turtle. Children personally toured members of the Ministerial party around their school, answering questions and sharing their indigenous languages. Our last Rotorua stop was at the New Zealand Maori Arts and Crafts Institute where Asia Manager, Serene Leong, organised a guided tour.
Last stop was Auckland where the Ministers visited another NGO organisation providing specialist therapeutic services for children and families. There is much to be learned through cross-cultural exchanges like this one, highlighting issues of language, different histories and policy approaches, and the participation of indigenous peoples. An informative trip for all concerned!