postcard from leon fulcher
From Wellington, New Zealand
Greetings from Wellington, New Zealand's Capital City voted the country's Number 1 place to live by North and South Magazine. Absolutely Positively Wellington is how the local slogan goes, and for the most part, this harbour city is a "must see" kind of place. Pity that our Super 12 Rugby team The Hurricanes are doing so badly this season! The weather for the past 3 months of our South Pacific summer has been the finest and driest since records began. For those who've never visited Wellington, I attach a view from Weir House, the university hall of residence for 270 17-18 year olds where my wife Jane and I are the Wardens. No it isn't like a penitentiary! The title comes from the British Oxbridge tradition of university colleges.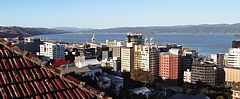 A view of Wellington Harbour from the top of the cable car
As the seat of government, Wellington was a hub of activity on the night of 6 March 2001 when the 5-yearly census was carried out. Everyone participates in the New Zealand census and this meant that students at Weir House were returning their forms late into the night. The last of the census forms were returned the following day, collected by the Department of Statistics enumerators, and before long, New Zealand will get an updated social profile of its citizenry. How often does the census happen in your place and how are the children or young people in your care defined when the census forms are completed? Is it their home or a boarding house?
No doubt you will remember going off to college or university and living in a hall of residence, college or, dare I say it, a Greek house. I wonder if you ever thought about the ways in which residential group living in a student hall of residence is similar to child or youth care practice with other client groups? Did you ever meet residence hall staff who had youth care training or backgrounds of experience in the youth care field? Do you think it might have made any difference to your memories of those experiences if greater attention had been paid to youth care principles and practices?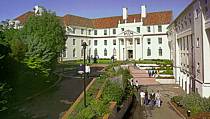 The front of Weir House, Victoria University of Wellington
I ask those questions because this year, our 15th year at Weir House, a new Student Leadership programme was introduced with some very positive initial results. Each student offered a place at Weir House agreed to attend leadership training and be rostered to serve as a Floor Warden for two to three nights per semester, dealing with noise, tidying kitchenettes and reporting any maintenance issues needing attention.
Initial Floor Meetings have become weekly features of life on each of the six Floors, and issues arising from Floor Meetings are brought directly to the administration or to a monthly House Meeting for the attention of the whole house. Interestingly, the name Student On Duty (SOD) became institutionalised almost immediately, with each Floor developing their own rituals around who will "SOD-On" from 7 pm and "SOD-Off" at 7 am. One Floor passes around a Sheriff's Badge of authority while another circulates a Jedi Torch. A Floor with many international students decided to roster themselves in pairs, with one international student working with a Kiwi student.
One particular "performance outcome" during the first month was only one incident of "unclaimed chunder" or vomit left unattended throughout the whole house. For a house full of 18 year-olds, that must be a 15-year record for First Year university students! Guess I'll "SOD-Off" having learned yet another lesson or two.