postcard from leon fulcher
From LAX International Airport
Hello from Los Angeles International Airport, America's regional transportation centre for Asia and the South Pacific. I forget how many times I've waited at LAX international for flights going to, or arriving from New Zealand. It is amongst the worst airports ever for trolleys or pushcarts, but the most economic stop en route to the USA from the Pacific, or from Europe to the South Pacific. Lots of toll calls!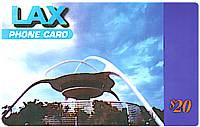 While waiting in the boarding lounge for the United Flight 841 to Auckland, my wife and I struck up a conversation with another couple our age. The Mrs was travelling to New Zealand for the first time while her husband was travelling there for the third time as a consultant with Work and Income New Zealand (WINZ). WINZ is the government agency formed three years ago by the first Centre-Right Coalition to forge direct links between welfare and income supplement payments. Full or part-time work became a requirement for anyone applying for the unemployment benefit.
Our southern California consultant worked for the state welfare department and his two-week itinerary would take him to all the principal towns and cities of both the South and North Islands of New Zealand. After a couple of visits, it was clear that he knew his way around, and his wife was enthusiastic about her trip.
It was when this American consultant said "If the WINZ (Work and Income New Zealand) management would follow our advice, the organisation could make money". We asked how this might happen? He said "People need to be faced with the ultimatum of accepting any job available within six weeks, or moving to another town where there is a job. If they don't accept a job, they should be ruled ineligible for the unemployment benefit. WINZ can make money by declaring beneficiaries ineligible!"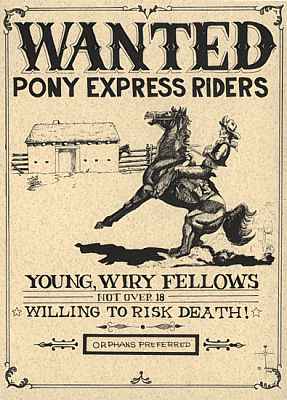 Want ad for pony express riders
That encounter and this second postcard picture reminded me that there are a lot of "cowboys" out there for hire. Contemporary organisations also "prefer orphans", just as did the US Post Office for 19th Century youths under the age of 18. In both riding for the Pony Express or with international consultancies, there are very real challenges and organisational complexities associated with cross-cultural rituals and exchanges. Southern California exists because of its population mobility, but the same cannot be said of rural and provincial regions of New Zealand. It is unreasonable to expect families with long-standing commitments to a community to move because of Government policies that have generated boom and bust cycles of unemployment.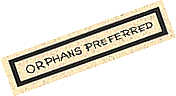 It behooves us however to remember how policies and practices that appear to work well in one place may not be that workable elsewhere. And for good reasons! The more important question is "What do the locals think isn't working very well, why, and what might assist them to do their work better?" Then bill in the local currency!
See ya there!