postcard from leon fulcher
Postcard from Dubai
Assalaamu alaikum – may the Peace be upon you – from Dubai where the international shopping festival has just come to an end with major tennis and golfing tournaments. For those who engage in retail therapy as a leisure-time activity, if you weren't amongst the millions of people who came to Dubai over the past couple of months, well you haven't really been shopping. As difficult as it may seem to imagine, more people visited Dubai for the international shopping festival in one month than can be counted amongst the entire population of Scotland! Indeed, the number was nearly double the population of New Zealand! we're talking nearly 6 million people! So when it comes to tourism and shopping, Dubai has definitely become a destination of choice for many during the Northern Hemisphere winter, offering tax free shopping opportunities, plenty of sunshine and warmth, the only 7-Star hotel in the world, and international merchandise of high value.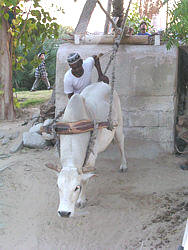 Demonstration of traditional methods for pumping water
But it hasn't always been like this. It is at times difficult to comprehend that scarcely more than thirty years ago, the United Arab Emirates involved small clusters of extended family groups of semi-nomadic Bedouin, date farmers, pearl divers and fishermen, all living at subsistence level struggling to survive in the scorching summer heat. It was the oil that changed all that, but even then, Emirati families did not directly benefit from the early development of their country's oil wealth. Most of the wealth went to ex-patriot "come-from-aways" who developed self-contained economic communities separated off from the local peoples. It was only through the wise and visionary leadership of His Highness President Sheikh Zayed bin Sultan Al Nahyan that all that has changed. Scarcely thirty years ago there weren't even hospitals. Since that time there has been significant investment in education and health services with dramatic outcomes for the Emirati peoples.
Children watching Emirati musical performance
As we wandered around the fringes of Dubai's international shopping festival, there were plenty of opportunities to engage in our favourite pastime "people watching. It was especially fun to watch parents and children interacting, and to see what captured the attentions of children. Alas, out of all the opportunities available, the place that captured our attention and imagination most was the Dubai Cultural Heritage Village where we found Emirati families came in numbers to spend time in a place where they felt "at home". We could have stayed there for hours, taking in the music and dancing, the sights and smells, listening to the sounds of Arabic speaking and sharing the wonder of it all. I was standing in a place that in scarcely half my lifetime was so totally different from what many of the parents, and especially the grandparents had experienced when they were children. It was quite mind-boggling really!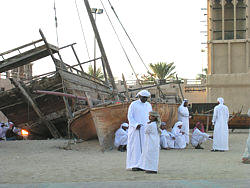 Emirati child learning the traditions of his people
It made me think: in the hustle of modern living, shopping malls, computer games and cinematic entertainments, do we seek opportunities to help children learn about their own family heritage and cultural traditions? I hope so!