Postcard from leon fulcher
From @Home in Scotland
My year started with a week filming 28 new scenarios for the new Images of Ourselves CD-ROM at the @Home Youth Centre in Airdrie, Scotland. I found plenty of loyal Airdrionians supporters. One young man told me the train for Celtic Park soccer football stadium also starts at Airdrie. Experience as a come-from-away traveller with little appreciation for the true depths of Scottish culture had me thinking Airdrie was a destination that eluded most people. What I found @Home was a fledgling European centre-of-excellence, already recognised for its programme of activities with the youth of Airdrie through the support of North Lanarkshire Council.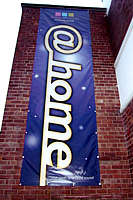 North Lanarkshire Council's Airdrie @Home Youth Centre
Amongst the range of activities offered through the @Home Youth Centre programme is a digital and VHS video production project that will shortly be capable of offering apprenticeships for young people involved with the Centre. Two of the youth leaders – Gillian and Mark – became stars for the new Images of Ourselves CD-ROM. I want to publicly thank Jim Paterson – Director of @Home Youth Centre in Airdrie – and through Jim, all the others who helped to make our week of preparation, filming and editing so successful! Nae bad is how they would probably say it in Airdrie, but I think the @Home folk are stars!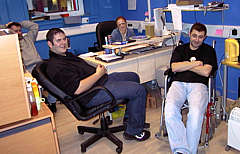 Home Team Members After 48 Hours of Filming
After the filming and editing of new digital video clips, good fortune let us spend a day with Scottish educators and agency trainers in The Learning Centre @Kibble, another European Centre of Excellence located near Glasgow Airport. I was invited as a Games Master to demonstrate potential uses of the Images of Practice in Child and Youth Care CD. Together we explored professional and educational uses as well as how the CD can be used to supplement recruitment and selection practices with Personnel or HR colleagues. Working from the notion that quality work performance in youth work requires consistently strong performance with observation and active listening competencies, the Kibble centre tested the Images of Practice CD as a supplement to their interviewing process with 80 prospective youth workers meeting Tom on the CD. The CD was used to identify roughly 35 candidates for 12 full-time posts and a relief pool of part-time workers. Managers and candidates were enthusiastic about the benefits of this test. Check out the following story from a participant in our Kibble Study Day about transfer of learning!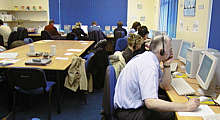 The Learning Centre @Kibble near Glasgow Airport
"Since you departed from our loving shores I have had the pleasure of using your disc on two occasions. Slowly but surely my scores seem to be improving. We used the disc as part of our training day and given that I was the only one to have used it previously, there were several mixed reactions. A lot of people were pretty disgusted at their lack of observational skills and a lot were shocked at how well they did. Needless to say the ones disgusted were the old timers like me who have been in the job for several years. Trying to tell them not to take it to heart was, how can I put it "like talking to a brick wall " but at the end of the day we all went home happy in the fact that in future we know not just to look at the picture in front of us but to look at the picture all around us. I also had some friends who are in the profession over for a night at my house and we got chatting about the disc and low and behold spent several hours going through it and using it as a game. (are we sad or what??) They all agreed that it is a great basis for training new recruits and it certainly kept us off the wine!!"
What transfer of learning stories might you share?