POSTCARD FROM LEON FULCHER
From the Canadian Prairies
Greetings from Canada's vast prairies that extend all the way from the US border to the Arctic Circle. With the support of the International Council for Canadian Studies I accompanied a contingent of Maori visitors to the Province of Saskatchewan. Saskatchewan has a population of roughly 2 million people and something like 1 in 4 of these are connected through ancestry to the five First Nations' tribes that have inhabited this region since before European colonisation. Dr Douglas Durst helped to coordinate our visit to the University of Regina through the generous support of the Social Policy Research Unit.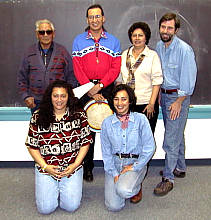 Front Row: Tuhoe Wahine Karlite Rangihau (l) and Bella Tait (r)
Back Row: Cree Elder Lawrence Tobacco, SFIC Professor Sid Fiddler,
Waereti Tait-Rolleston, Victoria University of Wellington and Dr Douglas Durst, University of Regina
Building links with the Saskatchewan Federated Indian College (SFIC) was a central priority during the visit and this included travel to the Saskatoon Centre of SFIC. There the New Zealand visitors were honoured to participate in a 32-rock Sweat Lodge Ceremony facilitated by Cree Elder Lawrence Tobacco and SFIC Professor Sid Fiddler. The cross-cultural exchange continued with First Nations and Maori participants giving formal presentations in the Bachelor of Indian Social Work programme accredited by the Canadian Association of Schools of Social Work. New Zealand participants facilitated a Native Studies class and gave a presentation to students and staff engaged in the Bachelor of Social Work programme at the University of Regina. Rare opportunities were offered at each stage for dialogue with First Nations' students as well as with those of European and Asian ancestry.
While in Regina, the participants met with the executive committee of the Saskatchewan Federated Indian College to explore issues concerning the operation and strategic directions of that College. There was discussion about how confederation between the five First Nations tribes in Saskatchewan helped promote indigenous self-determination in university education, including plans for a new SFIC Centre on the campus of the University of Regina to support indigenous education.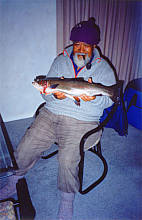 Koro Whetu offering his koha gift trout
The New Zealand delegation was honoured to have been a part of this visit. As is the custom amongst Maori peoples, it was appropriate to offer a gift of thanks or koha to acknowledge the rich learning that came as an outcome of this visit. In the second photo, Ngai Tuhoe elder Whetu Waiariki symbolically offers a koha trout in thanksgiving for the blessings of another day.
There is much to be learned through supporting networks of indigenous peoples to exchange knowledge across cultural and national boundaries. It is hoped this cross-cultural exchange will lead to a further visit, this time with Canadians of First Nations' ancestry travelling to New Zealand where they will be hosted by Maori.