POSTCARD FROM LEON FULCHER
Postcard from Fiji
Ni sa bula vi naka! Warm greetings to you from Fiji in the South Pacific, an island country consisting of 332 of which roughly 100 are inhabited! We travelled from the Middle East and met up with family who travelled from the US and New Zealand to celebrate Christmas and New Year alongside sandy beaches, coconut palms and warm blue seas. We flew to Fiji's international airport at Nadi (pronounced Nandi) on the island nation's largest and main island. Our rented house near Wananavu Resort was located on the northern coast of Viti Levu a few kilometres from the town of Rakiraki. Local people offered a fascinating variety of tropical and traditional fruits, vegetables and produce in the open market. Almost everywhere we went, there were signs advertising "grog", known as kava or yaqona, a curious looking grey root that is ground up to make a ceremonial drink used throughout the islands.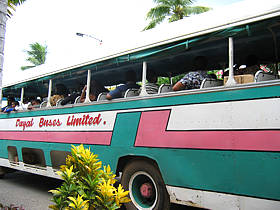 Buses without windows let you know that it rarely gets cold in Fiji!
The 2005 census estimates the population of Fiji to be 893,354, more than 30% of whom are children and young people below the age of fourteen. 51% of the population are native Fijians of Melanesian and Polynesian descent while 44% of the population are of Indian ancestry. Many of the Fijian Indians are direct descendants of workers brought to these islands as indentured servants by the British beginning in 1879 to establish the sugar cane industry, working for at least 5 years as farm labourers before earning their freedom. After the system of indentured labour ended, another wave of immigrants arrived from India "consisting of Gujaratis who paid for their passage to Fiji and set up small shops and businesses. Education helped Indians find a variety of vocations, although a majority remained tenant farmers. Today, the Fijian Indians play a significant role in the nation's economy.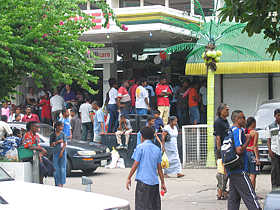 People-watching offers rich opportunities in the Nadi marketplace
Many will know that there have been tensions between the native Fijian population and the Indian immigrant population over the past 15 years. This has led to two coups de etat carried out by the native Fijian dominated military since 1987. The second coup resulted in a new constitution that gave special rights of citizenship to native Fijians as the original inhabitants of their islands. Things have calmed considerably and life has returned to "normal" (if ever such a description works anywhere), but there is still underlying tension. This erupted shortly after our departure with the threat of another coup when the government proposed to pardon the 2000 Coup Leader George Speight. While the matter appears to have been settled peacefully, it highlighted the extent to which issues of race relations in Fiji remain paramount.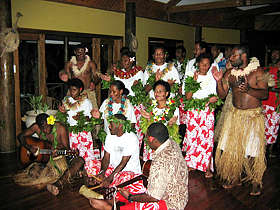 Native Fijians demonstrate their native dance and music
In spite of political, cultural and social realities that shape contemporary Fiji, the fact remains that children and young people are everywhere and they greeted us warmly wherever we went. The mango season was at its height during our visit and there were regular stops at roadside stalls to by bags of fresh mango from children. We also enjoyed our visit to the Rakiraki Methodist Church on Christmas Day where young people helped us with the music book to sing traditional Christmas hymns in the Fijian language. We've already promised ourselves another visit to Fiji!