postcard from leon fulcher
Postcard from Te Horowhenua in New Zealand
Best wishes to you and yours during this period of celebration for the Chinese New Year of the Ram, or the Goat. I've just finished my summer holidays, spending time with family, exploring new places, BBQs on the patio, gardening tasks of the recreational variety achieved, and personal and family re-charging at the end of a busy year of the Horse. Most of my Northern Hemisphere readers will no doubt struggle to comprehend our having summer holidays here in New Zealand while they're gripped by Winters" freeze. We managed a family holiday during the second half of January, thanks to Star Alliance Mileage Plus tickets and a much welcomed break from the mayhem of hospital work for junior doctors serving apprenticeships at the front line of New Zealand health care.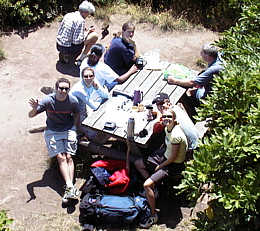 Looking Down from the Top of Kapiti Island
Apart from being together again from Europe, North America and different parts of New Zealand, the Fulchers had a grand old time for a week in the Horowhenua at our retirement abode, the retreat center we're developing for the days after we stand down as the Wardens of Weir House. If one has heard anything of the New Zealand All Blacks Rugby Team, they may also know about the Haka performed before every game played by our legend team. That Haka came from Maori Chief Te Reperahau and the Horowhenua region one hour's drive north of the Capital City Wellington. Kapiti Island, off the coast of this region is now a Department of Conservation Wildlife and Marine Reserve. No more than 50 people are permitted to go onto the island in any 24-hour period. Many lessons can be learned in a wildlife reserve about family preservation and caring unparalleled with that found in the human services.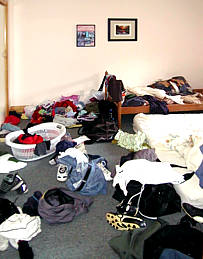 Bedroom Tidiness of Youth on Holiday!
The young descendents of endangered species are very special as the males and females living on the edge of extinction. Of the remaining 2000 Little Spotted Kiwis, two-thirds live on Kapiti Island where they forage around in the bush at night looking for bugs and worms. The Weka manage daytime duties and will steal you blind when your back is turned. The purple and orange flightless Takahae, a bird the size of a turkey, were thought to have become extinct at the beginning of the Twentieth Century. Fifty years later, a small colony was discovered amongst the alpine grass in the remote south-western Fiordland District of New Zealand's South Island. Less than 300 Takahe have been brought back from the edge of extinction, and a family of 5 live in the grasslands at the bottom of Kapiti Island. A small colony of the endangered Stitch Bird, one of three nectar eaters barely found on our mainland islands were provided with specialised nectar feeders. The sacred Kereru Wood Pigeon soar over the island following seasons and berries, thus helping to ensure on-going re-generation of the bush and its food supplies.
During a reflective week of recreational gardening, I kept asking what if communities treated children or young people as endangered species instead of terrorist body counts in Palestine or Israel, Afghanistan or Iraq. Thank you Nelson Mandela for challenging George W Bush and others for their arrogance of power and ethno-centric bullying that demonstrates poor diplomatic skills. We mustn't forget how children, the world over, learn that some things are never forgotten!