postcard from leon fulcher
From London
Hello from London, my next port of call after China. En route from Hong Kong, it seemed for a while that I might be sending a postcard from Moscow! A large party of Spaniards joined the Lufthansa flight home after their holidays in Asia. Many were partying before boarding the aircraft and continued to party after take off. Fortunately I was sitting at the front of economy class, while a crisis developed at the back.
Somewhere over Iran, the Captain asked if there was a doctor in the aircraft, and repeated this urgent request a quarter of an hour later. Not long thereafter, the Captain came back on to say it had not been possible to stabilize the situation and that he was diverting the aircraft to Moscow. Now everyone on the airplane was drawn into the crisis, thinking it was probably a heart attack or some other medical emergency. When we landed and there was no emergency medical team waiting for us, most of the passengers sat confused until a large "Nurse Ratchet-like" Russian, woman in police uniform led a squad of policemen into the back of the airplane, returning shortly escorting a young man in handcuffs off the airplane. For the next hour we just sat there. I continued reading my book, engaging in discreet people watching and wishing I had taken Spanish as recommended all those years ago in high school. That way I might have learned what actually happened. I was certainly left wondering about what kind of youth care services might be offered. After 90 minutes in Moscow, we took off again for Frankfurt, making re-scheduled connections to London and arriving after midnight with my internal clock reading 8 hours later!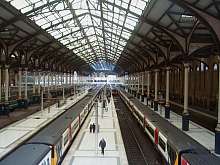 Trains at London's Liverpool Street Station during Go-Slow Crisis
And wouldn't you know it, I arrived at the start of Britain's Rail Track crisis that followed on from the death of four passengers in a Midlands train crash caused by broken track. Rail transport throughout Britain was put into "go-slow mode" and many trains were cancelled throughout the country as the nation's railway infrastructure was systematically checked and up-graded where required.
My primary objective during this London visit was to complete work on an interactive CD-ROM called Images of Practice in Child and Youth Care that should be ready for distribution in 2001. Those interested in child and youth care work will be able to engage in simulated encounters with 28 different characters via a PC computer and test observation and active listening skills using interactive video and actual case material. Those who've tried out the material have offered encouraging feedback and I look forward to making the CD-ROM available for wider use in training.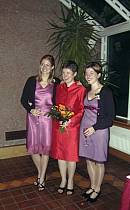 Jane and Kate supporting their mother Norma on her Wedding Day
And if ever one needed reminding that life goes on in the child and youth care field, out of the blue, good fortune let me attend the wedding of a long-time family friend and colleague from our days of working together at a Barnardo's unit for maladjusted adolescents in Edinburgh. It was terrific watching young people supporting their parents as two families formed a new reconstituted family that brought joy to everyone. I felt so lucky to have been there to share that special occasion.