postcard from leon fulcher
From Dublin
Happy 2007 as we start the new Chinese Year of the Pig! Those of you born under the lunar sign of the Pig (the last and 12th in the cycle of Chinese years) might be said to have good pedigrees as child and youth care workers. Those born under the sign of the Pig are said to enjoy life and all it has to offer, including family and friends. "Its better to give than to receive" may be their motto. Pigs are seemingly more comfortable giving of their own time or attention than about asking others for it. They don't find it easy asking for help and rather carry their burdens themselves. Pigs will do anything to maintain the peace, even though others may take advantage.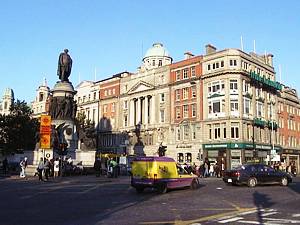 Greetings from Dublin on a sunny day!
But I didn't travel to Dublin to contemplate swine (and I really must apologise to my Muslim friends for inviting them to even think about pigs). I travelled to Dublin to facilitate a focus group of key informants with management expertise in the residential youth care sector. After conducting in-depth qualitative interviews with front-line and senior managers engaged in the residential youth care sector in Ireland, PhD candidate Gay Graham had identified a number of key success factors worthy of careful consideration by those seeking to develop core care processes with young people in her country. Gay invited colleagues with 111 years of combined residential management expertise to come together as a focus group to review the preliminary findings from her study and to highlight other key factors worthy of consideration.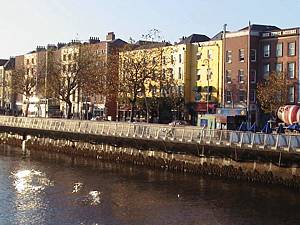 Dublin's River Liffey contributes to traffic jams in the city
I anticipate that Gay's research will yield very significant findings for the future of residential youth care in Ireland. She will be highlighting key success factors that are especially important for the development of responsive care services for Irish youths; factors that will also be of interest to those working in the sector elsewhere. Ireland has a unique history of child and youth care, a history that has been shaped by contributions made by the Catholic Church in support of communities and families. While many of the former children's homes, residential centres and training schools have now been closed in Ireland, the legacy of caring from that tradition continues through at least two or three generations of young people who grew up in care.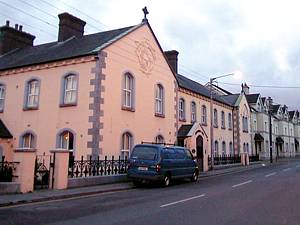 The Old Galway Industrial Training School
But lest my photos imply that the sun always shines in Ireland, it is more truthful to report that during my most recent visit to Dublin, the sun was not shining. No doubt the sun was shining somewhere in Ireland, just not where I was during that visit. Indeed, records have been set for November "and now December "for the volume of rain that has fallen this year in Ireland and Scotland. The Scots have a unique vocabulary that captures distinctive nuances of weather in this part of the world. When someone says "it's a guy, dreich day today" they mean its a very grey, bleak and miserable day. But lately the weather in Scotland and Ireland has reached even lower depths. The Scots word that applies is "drookit" or drenched with rain! You–ll understand when I say that I'm ready for sunshine! Happy New Year!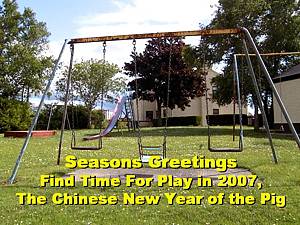 Seasons Greetings for 2007 and the Chinese Year of the Pig!