POSTCARD FROM LEON FULCHER
From Al Ain, UAE
Greetings! May the Peace be Upon You! I'm writing again from the ancestral home of the nation's ruler and oasis site of the United Arab Emirates University. Can you believe that another year has flown by? Here we are facing the start of 2006, at the same time as we begin the final month of lunar Year 1426 – just in case you mark time with both solar and lunar calendars! National Day celebrations here have recently marked 34 years of nationhood and UAEU students have actively celebrated.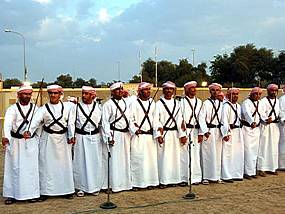 Traditional UAE Male Dancers
The celebrations included traditional dancing where two lines of young men stand shoulder to shoulder, chanting and swaying from side to side. Distinctive neck and head gestures are choreographed, along with movement of camel sticks in sequence with the drumbeat. Other men dance clockwise between the two lines, twirling camel sticks or rifles – sometimes over their heads and other times like the batons twirled by Western cheerleaders. Now and again, rifles are thrown high into the air and then caught with spellbinding precision. Long swords are also used for ceremonial occasions, with swordsmen shuffling around with swords held perpendicular to their wrists, blades shaken periodically to cause vibration. Then, believe it or not, swords are thrown into the air and caught with breathtaking accuracy – all without tragedy!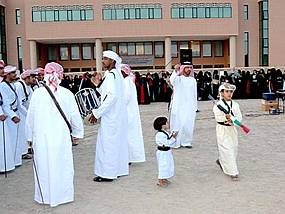 UAE Children Learning Traditional Dance
I watched with interest as children imitated the traditional dance routines, mimicking moves performed by fathers and brothers. Toy rifles are commonly exchanged for real weapons. Even at a very young age, some of the children had readily mastered these important skills, indicating many long hours of practice spent alongside brothers and friends. I was amazed yet again while watching these kids at just how early traditional customs and practices are learned by children, all through imitation.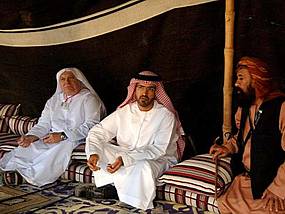 Conversations in the Meeting Tent
In traditional tents, senior males are presented with Arabic coffee as a gesture of welcome. Cultural protocols require that guests are also offered a smoking container of bokhar or incense as a symbol of respect. Guests sweep the scented smoke towards their faces and clothes, capturing the smoke under headscarves as an acknowledgment of greeting. Bedouin men discuss matters of importance to the occasion, standing periodically to greet each new visitor with a traditional touching of noses, a greeting almost identical to exchanges used in the South Pacific by New Zealand Maori.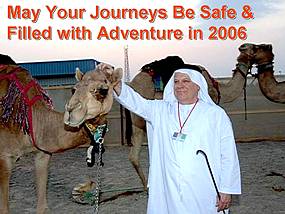 Happy New Year and Seasons Greetings for 2006!
Overall, it's been a year of new experiences! Looking to the New Year and to Child and Youth Care events planned in the weeks ahead, I take this opportunity to wish everyone safe journeys. I hope your days will be filled with adventure in 2006. Try finding some time for cross-cultural learning, with your own families and alongside the young people with whom you work. Try exploring parts of your town, city or region in 2006 that offer learning experiences with cross-cultural communication and opportunities to demonstrate respect for diversity, customs and traditions that extend beyond your comfort zones. The world needs this kind of learning now more than ever before if world peace is to have a real chance to succeed. And take care!