postcard from leon fulcher
Postcard from Abu Dhabi
I bet many of you will have never spent your Christmas-New Year holiday period in a place where such events are not celebrated! Alas, that is the way of things here in the United Arab Emirates. A couple of months ago I reported about Ramadan, the Islamic Holy Month of Fasting. Well it follows that the celebration of Christmas doesn't happen, except as a secular time when the shopping malls market Christmas as a time of economic opportunity. Similarly, Hogmannay – the 31 December Scottish celebration when the old year ends – and New Year's Day are not formal times of celebration either, because the lunar calendar governing daily life in Islam operates according to a different timetable. So while most of you celebrate this seasonal time of family holidays in Western countries, others living elsewhere in the world are likely to continue on with their normal work lives, going to school and finding time here and there to share moments with others of similar cultural traditions.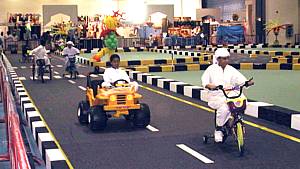 UAE Children's Road Safety Exhibition
There was a particularly interesting event organised here in the UAE that is worth telling you about. It was called the "Childhood Unlimited Exhibition" organised by Sheikha Fatima's Office of Local Ladies Affairs. This exhibition focused entirely on children aged 4 to 12 and was set up at the Abu Dhabi Exhibition Centre, a huge complex used for a variety of commercial and cultural activities. For the Childhood Unlimited Exhibition, the place was set up with lots of stalls and large activity areas, each offering experiential learning opportunities for primary school aged children as well as for parents and their young children. From 9 am until 1 pm, school groups were bussed in from all over the United Arab Emirates so that 500 children each morning could take advantage of the exhibition. Then, from 5 to 9 pm each day, families could go and find a variety of activities of interest to children and parents.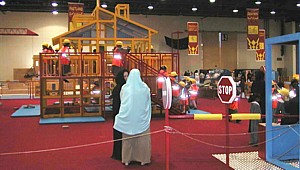 UAE Children's House Building Exhibition
The activities on offer made me wish I were a child again. In one area, children put on hard hats and safety jackets before pushing trolleys around collecting bricks, taking them to a pulley and pulling them up to the second floor of a playhouse frame where they could play at building a house, putting the bricks into wall spaces of the house – almost like lego except on a grander scale. In another area, children could learn about archaeology amongst the many ancient ruins found in this part of the world. As they wandered around the frame of these antique ruins with toy spades, the children could dig in the sand for artefacts and pottery strategically "buried" at the end of each session by those managing this learning area. Then there was the road safety activity run by the local police where children could drive a battery-powered car, large rickshaw style tricycle, or bicycle practicing their driving skills around a carefully constructed traffic precinct, complete with road signs, roundabouts and traffic wardens. Another stall that caught my imagination was the one where children could make bubbles with a huge variety of different sizes and shapes.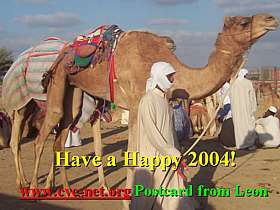 Camel Rides for 2004 Anyone?
Thanks for letting me share a few images about activities for children here and telling you a little bit more about what is happening in this part of the world!
Take care! And best wishes for a great 2004 in the months ahead.