postcard from leon fulcher
From New Zealand's Bay of Plenty
Greetings to one and all! This month's Postcard was written on Hogmanay, the Scot's last day of the old year! Here's hoping you brought the New Year in with celebration, and that your list of New Year's resolutions has at least 3 action statements for 2002! Having celebrated the Western New Year, it may be reassuring to know that your action statements (resolutions!) can still be written before farewelling the Chinese Year of the Snake and welcoming in the Year of the Horse!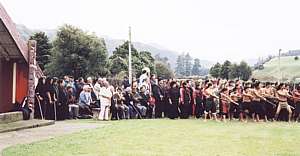 Rituals of Encounter 1: Readiness of the Home People
Last month I spent time in the Bay of Plenty taking part in an independent evaluation of a joint initiative between Government and one Maori tribe that began earlier in the year. This work has highlighted again and again the significance of "rituals of encounter" that take place between one group of people and another. Two photographs captured the symbolic re-enactment of historic rituals of encounter between one tribal people "te Iwi Ngai Tuhoe "and manuhiri/visitors, in this case distinguished Minister and Associate Ministers of the Crown, and Canadian First Nations Lakota Band Chief (buckskin) & a Saskatchewan university professor (right).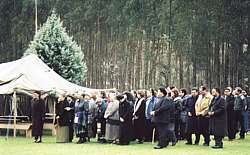 Rituals of Encounter 2: Crown Ministers & Other Visitors
The methodology used in this independent evaluation was the same as that used by the Maori leader, John Rangihau, in the original 1986 Puao-te-Ata-tu (Daybreak) Report of the Ministerial Advisory Committee on a Maori Perspective for the Department of Social Welfare. That work offers one of the few examples internationally where indigenous social research has significantly shaped Government policy. During the establishment phase of this current "whole-of-tribe" approach to what Government agents have called capacity-building for education and delivery of child and youth care services by Tuhoe people themselves, on far too many occasions, people were left talking past each other or at cross-purposes, instead of communicating responsively between parallel epistemologies and different world-views. It is not surprising that rituals of encounter between peoples throughout history have been characterized by misunderstanding and ignorance.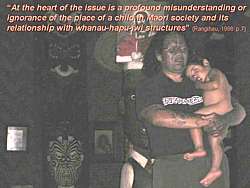 Ignorance about the Place of a Child in Maori Society
My third photo was taken inside of Tuhoe's oldest meeting house "te Whai-a-te-motu "so please excuse the darkness. Try counting the number of cultural symbols that surrounded this little girl and her father as he made his oral presentation to classmates. Both Western and Indigenous symbols appear, summarising a history of cultural encounters with the Ngai Tuhoe people who number 25,000 in the world. Their hopes and aspirations as a people depend so much on the future of Tuhoe children.
Spare a thought or two over the next few weeks:
"What rituals of encounter do you employ with new children or young people entering your programme?"

"Are these rituals the same for everyone?"

"How does your programme account for differences in cultural backgrounds when planning with children in care?"