POSTCARD FROM LEON FULCHER
From Scotland
Happy Hogmannay and welcome to the new Millennium from Scotland where the mandatory registration and training of all staff engaged with "looked after" children and young people in this country was recently announced. On December 1 the Minister for Children and Education in the new Scottish Parliament announced a radical change in approach to training of staff who look after young people in Scottish children's homes and residential schools. Four million Pounds Sterling (US$6 million) was committed over the next three years to coordinate and provide relevant, high quality training to staff who look after children and young people in residential care throughout Scotland. A key theme in all this is that residential care must be viewed as an integrated feature of family care. Residential care and family care are not two alternative poles. Instead, family care at times will call upon the back-up support of residential care. In the new Millennium, residential care needs to be family-centred in its orientation and practices so as to better support children and young people in and out of care.
Edinburgh Castle and New Town in Winter
It is here worth noting Andrew Kendrick's recent research that studied two hundred children and young people in the care of 3 Scottish local authorities over the course of a year to identify the role of residential care in relation to other forms of child care provision. The outcomes of over 400 residential and foster placements were described and the findings suggested that there was little difference in the success rate of residential care placements as compared with foster care.
Over half the children in the Kendrick study experienced residential care and at least four out of five of the placements for young people over the age of 12 were in residential establishments. There were wide variations in the use of residential care across the 3 local authorities. This means that different organisations and agencies have different attitudes or mind-sets about whether residential care should be seen as a positive option for some children. Other children were placed in residential care only because alternative forms of provision were not available. It's not "either-or"!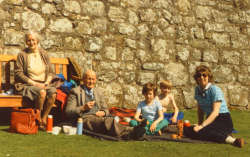 Family Photo
Kendrick found that the child's social worker would have preferred a different option for over half the residential placements, and for at least a third of foster placements. One out of five placements broke down, including both foster care and residential care placements. Particularly worrying was the finding that children in local authority care suffered from a number of educational disadvantages and almost three-fifths of the school-age children changed schools or experienced some form of alternative educational provision during the year of the study. Stay tuned! Next month our Postcard will be from Dublin!