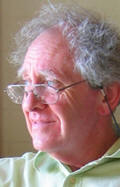 Brian Gannon
Brian worked in Child and Youth Care from 1959 as a child care worker, principal, trainer, supervisor, lecturer and writer.
He started his career in child care while in his final undergraduate year. Four years later he and a colleague started a new program (St Nicolas Home) in Johannesburg for a sector of the South African population not previously provided for. In 1967 he was invited to become principal of St Johns, a 64-bed program in Cape Town where he remained for fifteen years.
In the late 1960s, in the Western Cape, he founded South Africa's first child care workers' association, and was instrumental in the establishment of similar associations in Natal, the Transvaal and the Eastern Cape. In 1975 these provincial associations amalgamated into the National Association of Child Care Workers.
In 1982 Brian became the NACCW's first National Director. The NACCW has become the major training, literature and advocacy organisation in the field in South Africa.
Brian produced the NACCW's monthly journal Child & Youth Care from 1983 until 1999, when he founded CYC-Net with Thom Garfat.
Brian passed away on 28 September 2017.

Thom Garfat
Thom has been involved in working with troubled children and their families, and the staff who work with them for 25 years as a practitioner, supervisor, director, teacher, trainer, consultant and writer. His involvement in the development of care-giving philosophies and youth care approaches has taken him to every province and territory, many of the states and a number of different countries.
Since beginning as a child and youth care worker in a transition, assessment and emergency placement program for adolescents, he has been the director of a community based family counselling & intervention program, taught child care and family work for child care workers, social workers and other professionals at the University of Victoria, supervised group living and alternative programs, and was the director of treatment for one of Canada's largest child and youth care agencies.
He has developed residential and non-residential programs; created training programs for professionals working with children and families; helped organizations to conceptualize, develop and implement programs and services; delivered numerous keynote addresses for professional organizations; provided training and consultation in direct child and family work and is the author of numerous professional articles about working with troubled children and their families. Thom is also the co-editor of the Journal of Child and Youth Care.
Throughout the years he has provided consultation and training for organizations and staff provincially, nationally and internationally. He brings to consultation and training an expertise developed through involvement in all areas of the field. His doctorate is in Child and Youth Care from the University of Victoria.