Jack Phelan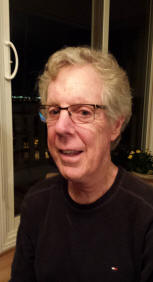 Location
Living in Edmonton, Alberta. Originally a New Yorker who followed a woman to the "true north strong and free".
Biography
I started my CYC career in New York City in 1967, moving to an inner-city neighbourhood and doing community youth work, after thinking about joining the Peace Corps, and realizing that parts of NYC were like third world nations. I was smart enough to know that I needed to listen to people in this new and, for me, strange environment, so I avoided the trap of believing that I was an expert who should be giving advice. My second full time CYC position was in a group home agency and they expected me to get a masters degree, with some tuition help, because working with youth was a sophisticated, professional endeavour. I still stay in contact with some of my mentors from that time. I held a variety of CYC jobs, and was very involved in creating a CYC professional association in New York, then the East Coast, then a national CYC association in the USA. I worked in New York, then Colorado for 15 years before moving to Canada. I met my wife Marilyn at a CYC Conference in Banff and fairly quickly followed her to Edmonton. I was the president of the Alberta CYC Association for a term, and I am a Certified CYC practitioner in both New York and Alberta. I have worked with teens, younger children, and families, and I can honestly say that I always enjoyed going to work and being a CYC practitioner. I have also been a supervisor, administrator, teacher, trainer, and consultant, but I always believed that I needed to be grounded in direct practice. For the past ten years I have travelled around the CYC world, and been both a guest and a host to other CYC people. This has been very satisfying hobby and is highly recommended.
My career in CYC practice for the past 15 years has continued to be interesting and challenging for me. I semi-retired in 2008, but I am still learning lots about how to do our work better. I have been writing and thinking about CYC practice being relational and developmental and the implications for re-thinking how we create programs and train practitioners. I have spent a great deal of energy trying to convince agencies to reduce the use of behavioral programs, except for new staff and youth or families. I also have struggled with relational ideas, and still feel that we have not fully explored the innate complexity of this concept.
Some of the new directions that I have been following and trying to understand include Heather Modlin's work on adult thinking stages and how we need to support practitioners to move from Socialized to Self-Authoring thinking. Also, Laura Steckley in Scotland has introduced the wonderful idea of Threshold Concepts and how we can use these to profoundly influence the development of practitioners. I am still in awe of the Isibindi projects in South Africa and trying to support awareness of how applicable they can be for CYC practice in Canada and elsewhere.
I have begun to focus on developing advanced training for CYC supervisors and I am very excited by the reception of the training so far at several agencies. This area of CYC practice has long suffered from a lack of useful resources for practitioners. I am hoping to write a book about this soon. I also have just published a book, Child and Youth Care, the Long and Short of it, which can be purchased at the cyc-net bookstore.
I teach a developmental CYC practice course and a Child Welfare Law course for third year students at MacEwan University, which keeps me busy in the Fall and I spend the coldest days of winter in Arizona with my wife Marilyn.
A favorite sayings(that change as you get smarter)
We have tried everything with this kid!
The kids get more difficult every year.
They don't pay me enough to put up with this stuff.
If we don't punish this kid, they will all think they can do it.
A few thoughts about child and youth care
I have been teaching at Grant MacEwan College for over 25 years, and I believe that CYC work is a fabulous choice of a career for many people. Complaints about pay and working conditions make me smile, since they are just distractions which creative, energetic CYC practitioners rarely discuss. The personal growth potential that our relational processes create make most capable practitioners feel more than adequately recompensed. In fact, unless you believe that you are getting personal benefits from the work, you won't last very long. The biggest deterrent to enjoying a CYC career is not the youth and families, but adult co-workers and supervisors who do not allow good treatment to occur, insisting on orderly behaviour over real change. Unfortunately, we still have not been able to get legislation passed that will regulate the quality of practitioner in our field, so there are unqualified practitioners and poorly run agencies, who do basic care tasks, but do not do CYC treatment, which is a much more complex task.
Last thing I read, watched, heard, which I would recommend to others
Everything that Fritz Redl wrote. Understand that English is his second language, and that many of his categories were attempts to spoof psychiatric diagnostic labels.
A few thoughts for those starting out
You will feel physically upset for the first six months as you go to work.
When you feel safer and more competent, things that were frightening will become funny or at least interesting. This will happen between six months and a year.
The best mentor at first is someone who can get the kids to bed on time. After a year you will probably need to find another mentor.
A recommended child and youth care book
Residential Child Care: Prospects and Challenges. Andrew Kendrick (Ed.)
A writing of my own
www.cyc-net.org/cyc-online/cycol-1103-phelan.html
Influences on my work
Everyone who does this work has influenced me, I have many long time friends and colleagues, but I continue to be amazed at how much there is still to learn.
Last updated October 2016