INTERNATIONAL CHILD AND YOUTH CARE NETWORK


6 FEBRUARY 2003
_________________________________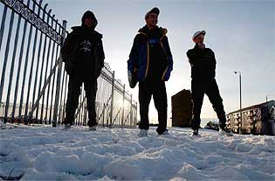 Taking old rivalries into 21st century
His name is Johnny and he is from Balornock, a scheme on the north side of Glasgow, dominated by the Red Road flats. His message is violently simple: "Johnny... Mad Skwad Number F****** One… Kick tae kill… Stab for fun!" His words are answered from five miles away, on the city's southern fringe. Pogo, of the Craigton Goucho, replies: "Ya wee s****, u-r getin bladed… cum when yir ready!"
The communication between two young men, revealing ancient enmity, is instantaneous, conducted in an internet chatroom. For the moment, the conflict is in cyberspace, but within days their "teams" will probably face each other in a prearranged location, where it will be translated into bloody violence.
The shouted challenge across the street is of the past; the future is on the web. Glasgow's gangs - the Toi, Fleet, Cumbie, Tong, Govan Team, Derry, Pak et al, names reaching back 200 years into a violent past — have entered the 21st century, creating their own websites with chatrooms where threats of death and violence are thrown out at the click of a mouse.
Police privately believe such a communication may have been the catalyst for fights in the Merchant City area during Glasgow's civic Hogmanay celebration. The New Year was barely minutes old before seven teenagers had been stabbed, caught up in what was apparently a conflict between gangs from Cowcaddens and Bridgeton.
In recent weeks, gangs have organised battles across the area, particularly in Milngavie and Cardonald.
Elizabeth Beaton, a south side resident, faced up to one gang and prised a bloodied baseball bat from a drunken teenager. "This area has been badly affected by the cybergangs," she said. "They arrange fights from their bedroom and there are no conversations to alert parents. It's a modern spin on an old tradition."
In Milngavie, gangs of up to 30 have gathered at weekends in a shopping precinct to fight with rivals from Drumchapel.
A police source said: "The internet is active. Gangs are waging the oldest wars with the newest technology. The web has changed the world and now we have a middle class element to street gangs." The police are aware of the sites and are monitoring. One senior officer in Paisley's K Division placed his own message in a gang chat room to warn them he was watching. Strathclyde officers, working with internet providers, have shut down sites because of their violent content, which has included images of youths armed with deadly weapons.
The more affluent youths use their own computers, while the less privileged take advantage of the internet café. Superficially, the gangs' home pages appear innocuous, depicting drinking, cavorting teenagers of the baseball cap-Kappa tracksuit generation. But their communications with their "enemies" reveal the disturbing nature of the new trend.
Jamie C, a member of the Gorbals team, explained: "The main people we fight with are the Brig'ton [Bridgeton] team, but the Gorbals will fight with every c***!"
The gangs are driven by territorial imperative and retain old names, although some are "hipped" up, like "GeorgeXross" - the St George's Cross team from the north side. Inevitably there remains a sectarian element, with loyalist gangs, such as the Young Ibrox Tong, which has no official link to Rangers FC, and the Kinning Park Derry, both on the south side.
The gangs' influence spreads beyond the city, reaching into Lanarkshire and Paisley, Johnstone, Barrhead, Erskine and Linwood. On the web, they adopt a vernacular speaking style, and insane poetry, such as Johnny's, is prevalent in sites such as the Maryhill Fleeto Mad Sqwad which promises that it will be "Slashin' jaws; kickin baws; puntin' jellies [temazepam] and stabbin' bellies".
John Carr, a London-based expert on the misuse of the internet, said: "When I was a youngster in Glasgow, the slogans were on walls; now it's the internet. Hate sites are increasingly common, extolling bigotry, racism and, in this case, setting up fights between gangs. We must not underestimate it.
"It's another unintended, unforeseen consequence of the net which is used by disturbing people, from bomb-makers to paedophiles." A spokesman for Strathclyde Police said: "We have instigated the closure of sites due to content after discussions with internet providers."
And Mrs Beaton, who has witnessed fights involving hundreds of youths, added: "These kids are not from 'bad' homes, which is more disturbing."
Centuries–old Enemies
Gangs have fought over their turf in and around Glasgow since the 1700s, when factions from north and south of the Clyde battled on an island lying between Calton and Gorbals.
It would be another 100 years before the gangs made headlines with the formation in the East End of the Protestant Calton San Toy, a name that survives today as Toi. Their enemy was the Catholic Tim Malloys (slang for Bhoys). A Glasgow Catholic is still known as a Tim. Factions based on religion and territory flourished, reaching their apex in the late 1920s with razor gangs such as the Brig'ton Billy Boys. Their grip was broken in the Thirties by the legendary gangbuster, Sir Percy Sillitoe.
The gangs survived, but it would be another 30 years before their influence again shamed Glasgow.
In the Sixties, they were the scourge of inner-city slums and the relatively new peripheral schemes such as Castlemilk, Drumchapel and Easterhouse. "Tongs, ya bass," became Glasgow's unofficial motto, but while many thought "bass" was short for bastard, it was, in fact, a corruption of the ancient Gaelic expression for "battle and die". And where before the protagonists had been mature men, the Sixties breed was exclusively teenaged. During the period, the singer Frankie Vaughan famously brokered an ersatz peace between rival Easterhouse gangs.
The media presented Britain with images of youths discarding "chibs" - bladed weapons - unaware that minutes before they had probably been filched from their mothers' kitchen drawers.
Vaughan went home; the gangs remained, evolving into 21st-century cyber-war rivalries, a new expression of an enmity as old as the city.
Words of war
The gangs communicate in the vernacular, using a linguistic shorthand and constructed words. For example, abbreviations in phone texting - "U" for "you" and "R" for "are" - are used in messages like: "U-R aw s***bags an' we will rip yer throat oot and am no f****' kidden, and rip yer toung oot and make u f*****' eat it ... if u try to touch [here, they name their gang leader]".
Customised expressions used by the gangs include:
"plunge" - stab;
"puntin'" - . sell drugs;
"sumbuzz" - excitement;
"buckets" - pipe for smoking cannabis;
"heavystunna" - good looking girl;
"ho" - tart, as the expression applied to women;
"M8" - mate;
"mukka" - friend;
"shoutoot" - message to friends and allies;
"burdz" - girlfriends;
"skeem" - a gang turf;
"jiggy" - the dancing;
"swatch" - . take a look;
"rapid c****" - gang members who run from fights.


By Jim McBeth
http://news.scotsman.com/scitech.cfm?id=147642003\

Readers are always welcome to comment on material in "Today". MAIL COMMENT HERE.
Comments will be published in CYC-NET's daily e-mail discussion group.
In the panel on the left you will find similar brief writings
which you may have missed since your last visit.