INTERNATIONAL CHILD AND YOUTH CARE NETWORK



28 MARCH 2000
_________________________________
A GIFT FROM ARCHBISHOP DESMOND TUTU
'Ubuntu' (oo-boon-too)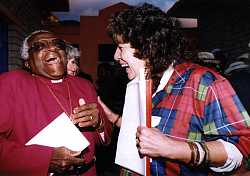 "Africans have this thing called UBUNTU.
It is about the essence of being human, it is part of the gift that Africa will give the world.
It embraces hospitality, caring about others, being able to go the extra mile for the sake of others. We believe that a person is a person through another person, that my humanity is caught up, bound up, inextricably, with with yours.
When I dehumanise you, I inexorably dehumanise myself. The solitary human being is a contradiction in terms and therefore you seek to work for the common good because your humanity comes into its own in belonging".


— Desmond Tutu
Archbishop Emeritus of Cape Town
The picture is of Archbishop Desmond enjoying a joke with Annette Cockburn, Director of The Homestead
(Projects for Street Children) during the opening of The Bridge, a place where street children of Cape Town
could find a warm place at night, a shower, a place to keep their possessions ...
____________