BOOK REVIEW
Don't Let Your Kids Be Normal
by Gerry Fewster
A review by Mark Krueger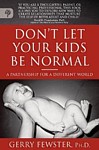 Over the years Gerry Fewster has shaped our thinking, writing and practice through such works as Being in Child Care: A Journey Into Self and Turning Myself Inside Out: My Theory of Me. His numerous columns, essays as stories have advanced what we now call "relational work" to the forefront of Child & Youth Care "where it should be.
Now he offers us his masterpiece, Don't Let Your Kids Be Normal: A Partnership For a Different World.* In one of my earlier reviews I wrote that if every person who cares about kids would read this book, the world would be a better place. With commitment of purpose, brilliant insight, humor, and wonderful writing skills, Fewster does what his title suggests by encouraging us to have faith in the creative potential of every child, while falling in love again and touching the child within each of us.
He challenges many of the stereotypes of today that have so many parents and caregivers trying to make children something that fits their pictures of success and achievement "ambitions that are so distant from what children need to live fulfilling lives. His faith in the child, with all its wonders, and his confidence in the adult's ability to be nurturing and co-creative with children, is inspirational. By reminding us where we came from he evokes our passion for the longings, dreams and searching of the children we engage in our daily interactions. You cannot read this book without loving children and being a child again yourself.
As a friend, I have heard many of the ideas and examples in this book delivered in person with his unique passion and intellect. There is nothing like a conversation with Fewster. Not much, however, is lost in translation within this book, filled with concrete examples, clear language and the continuous energy of a man writing from his soul, heart and head.
The result of years of thinking, carving out his ideas and reworking them, this book deserves the title of "masterpiece" for these reasons alone. It is, however, by itself a work of art and scholarship delivered with unbounded energy, truthfulness, research and rightness that rings true for the author and thereby the reader. I could go into detail about each of the chapters, but if what I have said so far doesn't make you curious and eager to read the book, it probably won't make much difference. My recommendation: buy it, engage in the wonderful discussion he has provided, and use it to enhance your relationships with children "those in your life, and your own within.