MILLENIUM FEATURE
Five women of the 20th century
This year the Ladies Home Journal, itself founded in 1883, published a special issue commemorating those it selected as the 100 most important women of the twentieth century. Five of these had special connections with those of us who work with children, youth and families in difficulties ...
Jane Addams 1859-1947
At the time of her death, Jane Addams was, wrote The New York Times, "perhaps the world's best-known and best-loved woman." The legacy of her good works can still be felt in every corner of American society.
Her best-known achievement is Chicago's Hull House, the crowning achievement of the turn-of-the-century settlement house movement. Addams and her friend Ellen Gates Starr purchased the once-stately mansion in 1889; soon, it was offering assistance to tens of thousands of people a year.
With the aid of a talented (and mostly female) staff, Addams opened Hull House's parlor to a group of union women for their meetings, built a playground, a gymnasium and a day-care facility, and arranged housing for women and children facing homelessness in the aftermath of factory layoffs or strikes. Somehow, she also found time to write several books and to campaign on behalf of causes ranging from child labor to racial equality to women's suffrage.
But her greatest passion was peace, and in 1931 this lifelong pacifist became the first American woman to win a Nobel. In awarding her the peace prize, the Nobel committee called Addams "the foremost woman of her nation."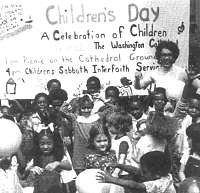 Marian Wright Edelman
1939–
Leading a sometimes quixotic, always passionate, crusade, Marian Wright Edelman, the founder and president of the Children's Defense Fund, awakened Americans to the fact that children have rights, too.
She has done more to shape national policy on such issues as infant mortality, day care, child abuse and teenage pregnancy than probably any legislator who has ever worked in Washington.
The Yale-trained attorney (and the first African-American woman ever admitted to the Mississippi bar) spent years working for civil rights before shifting her focus to the needs of children "a shift partly brought about by the birth of her own three sons.
Since its inception in 1973, the Children's Defense Fund has served as the chief federal advocate of the rights of children "to safe homes, nutritious meals and decent educations. So powerful is Edelman's role as a Congressional adviser on family issues that she has been called "the 101st Senator."
Mother Teresa 1910-1997
In an age more notable for cynicism and greed than for compassion and charity, the Roman Catholic nun known simply as Mother Teresa inspired millions with her absolute devotion to the world's dispossessed.
Up until her death in 1997, this diminutive woman ministered to the poorest of the poor, the sickest of the sick. Through it all, her single, unchanging mission was to bring dignity and relief to those whom society has discarded.
To her legions of admirers, she was a living saint. Agnes Gonxha Bojaxhiu was born in Albania in 1910, the daughter of a prosperous construction contractor. At 17, the girl her brother Lazar remembered as "a real tomboy "plump, fun-loving, and mischievous" "entered the Sisters of Loreto order. "Do you realize you are burying yourself?" her brother asked. "How could a girl like you become a nun?"
Assigned to St. Mary's High School, in Calcutta, Sister Teresa, as she was now known (after Saint Therese, the patron saint of missionaries), spent nearly two decades teaching geography to mostly middleclass girls "a job she came to believe provided insufficient service both to God and to her fellow man. She had become increasingly distressed by the horrific living conditions that festered on Calcutta's streets and was even more affected by a bloody riot between Hindus and Muslims that she witnessed in 1946, as India was caught up in its drive toward independence.
Heeding what she would later describe as "the call within a call," Sister Teresa decided, as she put it, "to leave the convent and help the poor while living among them." It was, she said, a command from God.
In 1950, she founded the Order of the Missionaries of Charity, dedicated to the alleviation of human suffering. Her mission attracted several followers, who adopted as their uniform the now-familiar blue-banded white cotton habit. Today, the order has thousands of members in some 90 countries and operates more than 500 homes and clinics.
Possessed of a belief in the preciousness and dignity of human life that was as unshakable as her deep religious faith, Mother Teresa received countless honors, but always discounted her own importance. "I am nothing," she would say. "God is all." In 1979 she was awarded the Nobel Peace Prize. "The loneliest, the most wretched and the dying," said the Nobel Committee, "have at her hands received compassion without condescension, based on reverence for man." Mother Teresa responded with typical humility. "Personally, I am unworthy," she said. "I accept in the name of the poor."
Melanie Klein 1882-1960
With "play therapy", Austrian-born British psychoanalyst Melanie Klein created a means to analyze a group largely ignored by Freud "children too young to articulate their feelings.
By observing her tiny patients (sometimes as young as one) playing with toys representing mother, father and siblings, Klein was able to surmise their unconscious fears and desires. Her methods remain fundamental to child psychology today.
Klein first became intrigued by the idea of the unconscious after reading Freud's 1901 study, On Dreams. She began analysis with Sandor Ferenczi, a disciple of Freud, but their sessions soon evolved into tutorials, with Ferenczi urging Klein to take up the analysis of children.
As a theorist Klein eventually came to rival Freud, the master from whom she increasingly deviated. Orthodox Freudians still quibble with many of her ideas "she contended, for instance, that the developmental stages identified by Freud (oral, anal, phallic and genital) occur simultaneously in a child's first year "but about her seminal role in child psychology there is no dispute.

Maria Montessori 1870-1952
Contemporary primary education derives its form largely from the pioneering Italian educator Maria Montessori.
It was Montessori who introduced to children's classrooms such now commonplace accoutrements as child-size tables and chairs, lively colors, and developmental learning games. And it was she who first trained teachers to approach early education as a co-operative endeavor in which the kindergarten-age child should be guided, but not lectured to or blamed.
As her biographer Rita Kramer correctly observes, Montessori "belongs on any list of those whose existence shaped our century." And, adds Kramer, "the fact that she was a woman, born in Italy thirty years before the end of the last century, makes that fact even more remarkable."
Italy's first female doctor, Montessori developed an interest in children with learning disabilities, becoming convinced of the value of manipulative materials and age-appropriate sensory stimulation in helping them learn. In 1907, she opened an experimental school in a Roman slum to test her principles on inner-city preschoolers without handicaps. They made remarkable progress in reading and writing.
Explaining her system in the 1912 book The Montessori Method, Montessori denounced traditional schools where "children, like butterflies mounted on pins, are fastened each to his place." Essentially, the Montessori method takes advantage of a child's natural desire to learn with minimal intervention from a teacher. Enormously influential, the book launched an international educational reform movement.
The Montessori movement has influenced early-childhood education to such a degree that there is probably not a daycare center or kindergarten classroom in America that does not incorporate at least some of Montessori's techniques and progressive ideas into its curriculum.
Acknowledgements: Ladies Home Journal: 100 Most important women of the 20th Century